---
---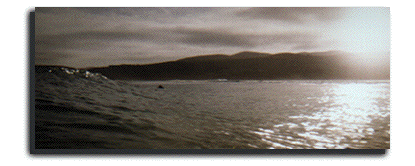 Story submitted 8/27/96
by K. Lo kevinlo@quickturn.com
---
"Bathed in the Golden Morning Sun"
I went surfing very very early that morning before the ocean even woke up completely. Bathed in the golden morning sun..... I had this appointment with my board-shaper after lunch. We 'shaped' the surfboard together. After a discussion of my surfing asperations, he cut an angle here, shaped an round curve there. Voila! A brand new surf board in formation. Watching my first customized surf-board created is quite an experience for me. I decided to put a dragon on my board which symbolises my Chinese blood -A dragon swims in the ocean with full speed and total freedom will give me a lot of inspiration, strength and courage later on while surfing....
Surfed with a sweet girl J. from WA state, she's been very sick for the past few months. For weeks she had to stayed in bed. Then she saw this film on surfing. She watched it over and over and promised herself to get better as soon as possible so she can come down here to Santa Cruz and learn to surf. One of the surfers starring in the movie called her after hearing such a story and wished her well. He set up an appointment to meet her in the water.
I happened to be there paddling by. Something there caught my eyes and stopped me even with the waves urging me go for another ride. She was sitting on her surfboard with this shining big smile on her face, really looked like a lily flower emerging from water. A pretty girl healthy and tanned, completely different from 3 months ago, I supposed. And she was good enough to share the same wave with me.
In the water she told me her story and I promised her to send her a postcard and wish her have all the courage she needs in her life.
Back to Bay Area Surf/Posted Tales
---
---